Perform business tasks on the go
As all technology is turning mobile, so are we! We have introduced a suite of mobile solutions that will help your business on the go, while making your business processes a lot more seamless and operationally efficient. Our mobile app will help your staff perform everyday business tasks on the go, such as stock taking, proof of delivery, pick lists, and stock transfers. The app will increase your staff's productivity and speed up fulfillment, as they will have all stock information at hand.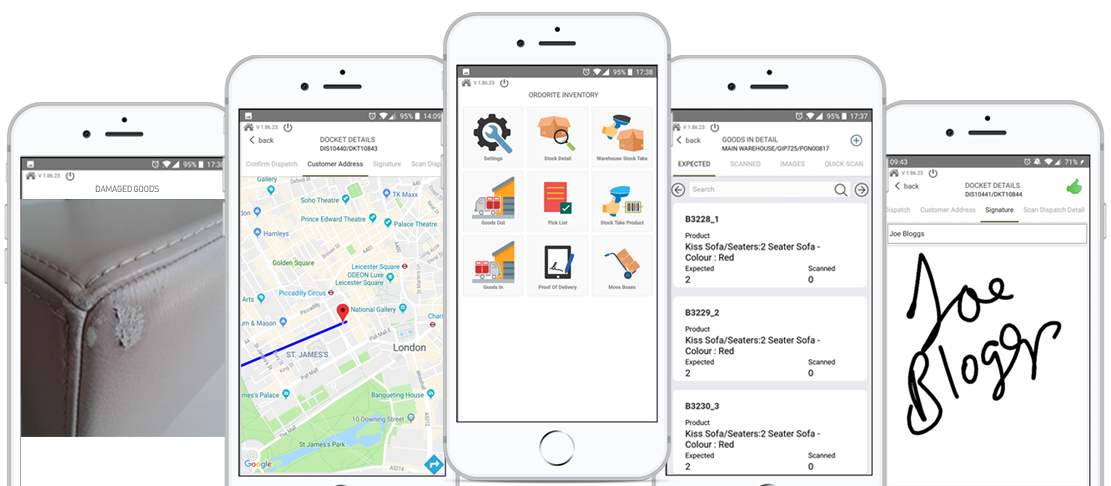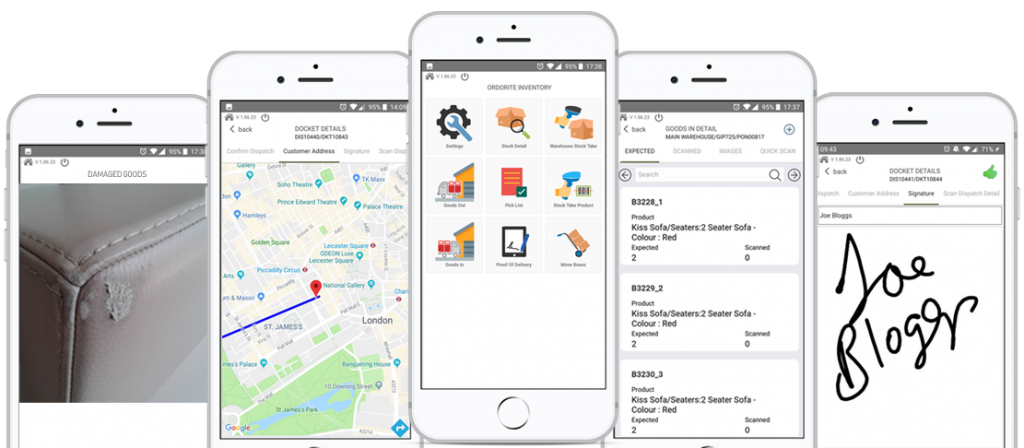 Mobile App Features
Mobile solutions that will help your business on the go
FEATURE one
Inventory Checking
Whether you are in store or in the warehouse, you can check inventory information and locations, and scan boxes and products.
FEATURE two
Inventory Catalogue
You can browse and search your products in a speedy manner in your warehouse, by scanning individual boxes or products to get inventory availability and quantities.

FEATURE three
Pick Lists
This will help your delivery team with product information and the location of products in the warehouse, allowing them to load their vans in an efficient manner.
FEATURE four
Proof of Delivery
The app allows you to get digital signatures for proof of goods being delivered to a customer. If an item appears faulty upon delivery, you can also take a picture of that item and it will raise a task and action immediately in the customer service section in the system.

FEATURE five
Goods In
You can see in advance the purchase orders or deliveries that are due in from a supplier or from containers. Once they arrive in, you can then scan the items and allocate them to locations in your warehouse.
FEATURE six
Goods Out
This shows the products and items that are ready to be dispatched and loaded to vans for delivery. It shows order descriptions, order numbers, container numbers, dispatch date and dispatch location.
FEATURE Seven
Inventory Transfers
From the touch of a button you can transfer inventory from one location to another, be it from different warehouses, or different stores.
Benefits of using Mobile Apps
It's hard to ignore that everything is done on mobile devices now, and it's time furniture retailers became more mobile-friendly. There are many benefits of using mobile point of sale (POS) software for businesses. These benefits include:
Paperless
Your employees no longer need large amounts of paper trails such as delivery dockets, dispatch lists, pick lists, or inventory lists. They can have all this information by the click of a button.

Employee efficiency
Your employees are now more efficient with their time, by being able to do their work while anywhere at any time in the store or warehouse.

Enhances the customer experience
The app is designed to ensure the customer experience is smooth and seamless. Customers can now digitally sign for deliveries and if items are faulty, you can upload an image of the faulty item and it will automatically raise a task and action in the system.

Check inventory availability
You can check inventory availability while anywhere in store or the warehouse, instead of having to run back and forth to the till to check the quantities.

Speeds up inventory check process
You can walk around the shop or warehouse while doing an inventory check, with all details at hand on a tablet or smartphone.

Inventory Accuracy
Having all inventory information at hand on a mobile device eliminates inaccurate inventory checks that can happen by human error.
Want to know more about Ordorite?
If you are a furniture retailer looking for a Point of Sale (POS) Business Solution to manage your business end-to-end, download our booklet today where we share tips and tricks of the trade as well as why you should choose us as your software provider.